DrugScience researchers embed themselves in the pain, anxiety, and sleep loss communities to build a consensus on what forms of CBD and what brands are bringing the highest degree of relief. Our team has reviewed over 400,000 messages from CBD users and conducted thorough surveys with those pioneers of CBD healing. Our exhaustive testing has been updated for 2022 and continues in house and nothing is recommended without our team personally testing the products and reviewing the independent lab testing results. Rather than bombard you with a top 25 to try to select from we've narrowed it down to the 3 best CBD oils.
Best CBD – Jump to Our Top Picks ?
An estimated 64 million Americans have tried CBD at least once in the past two years according to results from a 2019 Consumer Reports survey [1]. Of these, one in seven use it every single day. What is CBD and why are so many people using it?

The cannabis plant contains a number of different cannabinoids, many of which have been linked to positive health benefits.
For instance, CBG stands for cannabigerol and this cannabinoid has been found beneficial in cases of Huntington's disease [2] and glaucoma [3]. Cannabichromene, or CBC, is another cannabinoid with both anti-inflammatory [4] and antibacterial [5] properties.
One of the most well-known cannabinoids is CBD, which stands for cannabidiol. According to Harvard Medical School, CBD is the second-most abundant active cannabinoid found within the hemp plant [6].
Unlike tetrahydrocannabinol (THC), the most abundant active cannabinoid, CBD is non-psychoactive in nature. This means that it doesn't create the high effect commonly associated with medical or recreational marijuana usage.
CBD-containing products come in a variety of different forms. This includes creams and lotions, capsules and pills, edibles, and vapes. However, one of the most studied is CBD oil.

The way CBD oil works is by interacting with the body's endocannabinoid system. The University of California, Los Angeles (UCLA) explains that this system is present in all vertebrates and helps the body remain stable in our ever-changing environment [7].
The UCLA goes on to say that our bodies do create their own endocannabinoids and, though researchers initially thought that receptors for these substances were only in our brains and nerves, they are now discovering that cannabinoid receptors are located in other areas as well. Among them are bone, skin, fat, muscle, and a variety of organs such as the heart and kidneys.
The two types of endocannabinoid receptors are CB1 receptors and CB2 receptors. While CBD does not bind directly to CB1 receptors, research has revealed that it does impact these receptors in a way that reduces the psychoactive effects of THC [8]. This enables CBD users to enjoy the benefits of both CBD and THC cannabinoids without experiencing THC's effects full scale.
CBD oil can provide users a variety of health benefits. Healthline shares that this includes experiencing pain relief, reduced feelings of anxiety and depression, clearer skin, and enhanced protection of the body's neurological system [9].
Numerous scientific studies have also connected CBD with providing positive health benefits in the treatment or maintenance of specific medical conditions. These include: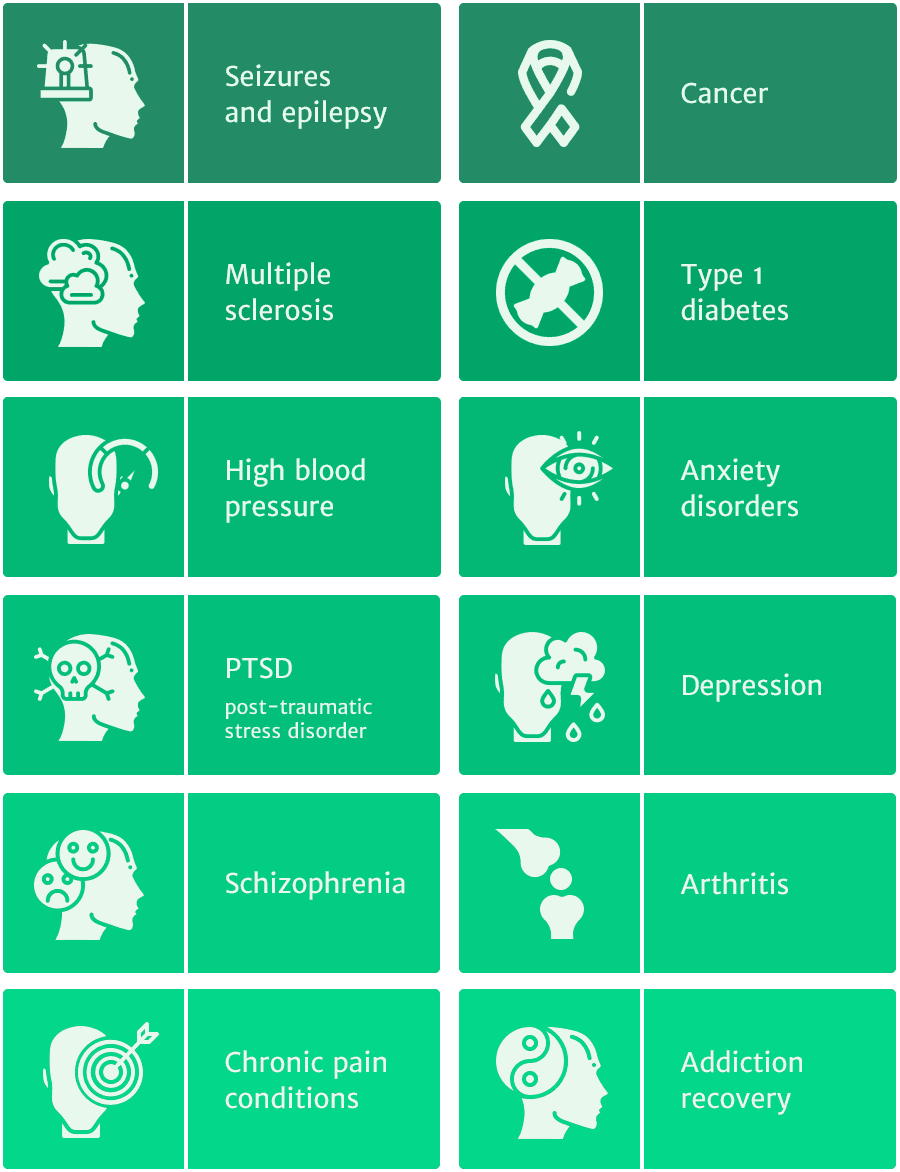 Seizures and epilepsy. Research published in Neurotherapeutics suggests that CBD is a "well-tolerated, promising therapeutic for the treatment of seizures." In this case, scientists found that whole-plant cannabis reduces seizures while avoiding the endocannabinoid system's psychoactive effects [10].
Cancer. CBD can also provide benefits to individuals diagnosed with cancer. For instance, one study found that THC extracts that also contain CBD are significantly better at reducing cancer-related pain than THC alone [11]. And if the patient is undergoing chemotherapy, CBD can help with the nausea and vomiting [12].
Multiple sclerosis. A 2018 study in Frontiers in Neurology shares that CBD can help ease many of the symptoms characterized by multiple sclerosis, a few of which include fatigue, pain, spasticity, and limited mobility [13].
Type 1 diabetes. The American Diabetes Association reports that approximately one in ten Americans have diabetes, a disease that costs our country $327 billion every year to diagnose and treat [14]. Yet, some animal-based studies have found that CBD can as a preventive and potentially help reduce the incidence of type 1 diabetes specifically [15].
High blood pressure. If you struggle with high blood pressure, CBD may help. For example, one 2017 study of nine healthy male volunteers showed that administering just one 600 mg dose of CBD reduced the subjects' resting blood pressure as well as decreasing the rate by which their blood pressure increased after being exposed to stress [16].
Anxiety disorders. Anxiety disorders are the most common type of mental illness in the U.S. according to the Anxiety and Depression Association of America and evidence "strongly supports" the acute use of this cannabinoid in treating multiple anxiety disorders, some of which include generalized anxiety disorder, social anxiety disorder, panic disorder, and obsessive-compulsive disorder [17][18].
PTSD. PTSD stands for post-traumatic stress disorder and, while some of the most common forms of PTSD treatment include mental health therapy and prescription medications, research suggests that CBD is another therapeutic alternative for this condition partially because it interferes with aversive memory recall, thus mitigating other PTSD symptoms [19].
Depression. CBD is known to have antidepressant qualities, making this particular cannabinoid beneficial for those who are feeling sad or are experiencing insomnia, trouble concentrating, or changes in appetite, just a few of the most common depression-related symptoms [20][21].
Schizophrenia. Because CBD has antipsychotic effects, it can have a positive impact on those who have been diagnosed with schizophrenia. Though the exact mechanisms behind how these effects work are not totally understood, they have been confirmed by functional magnetic resonance imaging tests [22].
Arthritis. The Arthritis Foundation shares that CBD can help alleviate the pain and inflammation associated with arthritis conditions, likely by helping the body more effectively use the endocannabinoids it creates on its own [23].
Chronic pain conditions. When you have chronic pain that is difficult to treat, any relief is welcome. Research indicates that many of these types of pain-based conditions can be eased by taking CBD [24].
Addiction recovery. CBD can also help those who are recovering from drug addiction by reducing anxiety and impulsivity [25]. It also helps with stress reduction, decreasing the odds of a relapse.
Research continues to be conducted on the many way CBD is advantageous to health conditions such as these, with the National Institute on Drug Abuse indicating that more than $15 billion is spent annually on studying this one cannabis extract alone [26].

One concern many people have is whether CBD is safe. In 2017, the journal Cannabis and Cannabinoid Research published a review of clinical data that addressed the very issue of CBD safety and side effects [27].
According to this review, CBD has a favorable safety profile. Additionally, when compared to other drugs commonly used to treat the same types of conditions that CBD is often used to treat, it has less troubling side effects.
For instance, one of the drugs routinely prescribed to epileptic patients is clobazam. The Epilepsy Foundation reports that a few of the side effects associated with this drug are dizziness, poor coordination, drooling, and restlessness or aggressiveness [28].
Yet, the 2017 review states that the most common side effects of CBD are tiredness, diarrhea, and appetite or weight changes. Since these are more minor in nature, researchers believe that taking CBD can actually improve patients' compliance to treatment.
The World Health Organization adds that, though not all potential effects have been explored and further research needs to be conducted in this area, CBD does appear to have a relatively low propensity for toxicity [29].

Like with any other type of dietary supplement, not all CBD oils are created equally. What can you do to increase the likelihood that you select one that promises to offer the best results?

The first factor to consider is whether the oil is a full spectrum CBD oil or if it is a CBD isolate.
A full spectrum CBD oil is an oil that contains a number of compounds from the cannabis plant. This creates what is known as the "entourage effect," which essentially means that the synergy of all of the cannabis compounds combined is greater than the benefits offered by CBD alone.
For instance, the cannabis plant contains a number of different terpenes, which are the aromatic oils that give each variety of cannabis its distinctive odor and flavor. Each terpene offers its own potential medicinal value [30], such as:
Pinene – a terpene with a pine aroma that helps with alertness and memory retention and can be used to treat asthma, ulcers, and pain
Myrcene – a musky or earthy smelling terpene that is more sedating in nature and can be helpful in the treatment of insomnia or inflammation
Limonene – this citrus terpene elevates mood, making it beneficial for those who struggle with anxiety and depression
Caryophyllene – a terpene with a peppery aroma that provides stress relief effects, creating a positive impact on those dealing with pain or ulcers
CBD isolate, on the other hand, contains only CBD and no other cannabinoids or terpenes. That makes these types of products less effective because all of these other beneficial compounds are processed out.

The quality of the CBD strain is important as well because some strains are less effective than others. Since other countries are less stringent in their standards regarding strain quality, it is recommended that consumers stick to CBD strains that are grown within the U.S.

Talk to a dietician or nutritionist and he or she will tell you that the best foods are those that are organic, meaning that they've been produced without the use of chemical fertilizers, pesticides, growth stimulants, or antibiotics [31].
The same is true with CBD oils. By ensuring that the CBD is sourced from cannabis that is organically grown, you're also ensuring that you're not being subjected to these toxic substances that can potentially harm your health.

Choosing a CBD oil that has been lab tested by a third party also gives you a peace of mind that the product you choose contains exactly what it says on the ingredient label, and nothing that isn't listed.
Third party lab testing also offers additional benefits, such as increased objectivity and higher levels of safety due to decreased exposure to in-house agents [32].

We recommend products and services based on unbiased research from our editorial team. Some links on this page may link to our affiliates.
Learn More.

Understanding what CBD oil is, how it works, and the benefits it provides is just part of the equation. Even knowing what makes it effective isn't always enough to help you decide which CBD oils are best, especially until the Food and Drug Administration gets closer to regulating CBD products, which its website indicates isn't likely to happen until quite a bit more research is conducted. [33]
Therefore, to make the CBD oil purchasing process much easier, we've taken the time and done the work for you by identifying the best three CBD oils on the market today. What are they?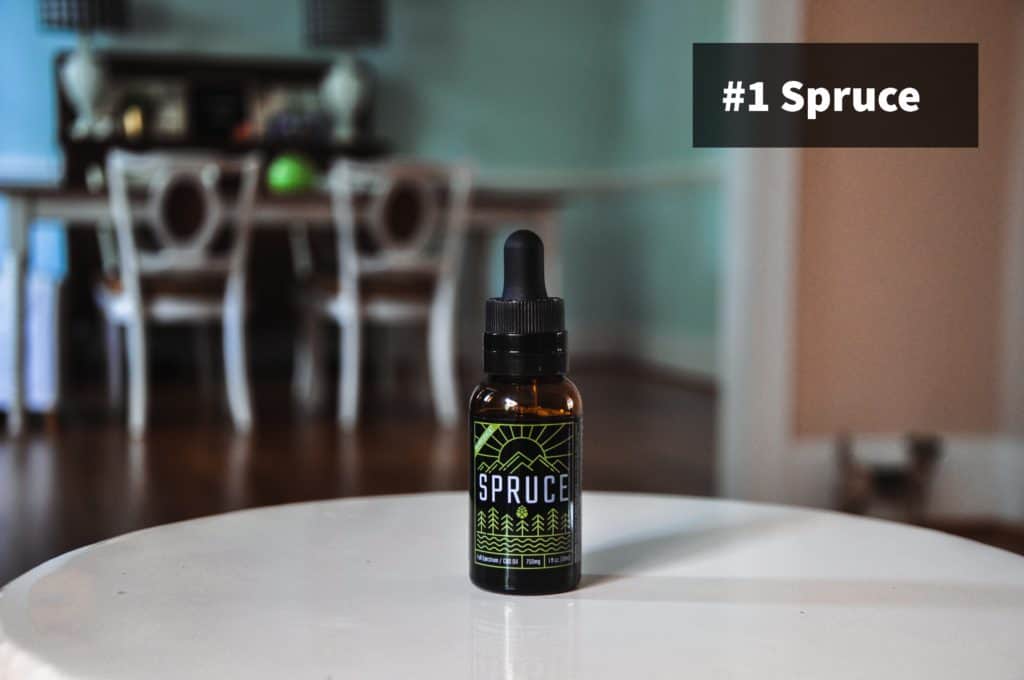 Full spectrum CBD oil
100% natural
Made in the U.S.A. (grown in North Carolina and Kentucky)
Moonshine extraction
Third party tested
5-star rating
The most potent full spectrum oil on the market
Topping the list of best CBD oils today are those offered by Spruce. Spruce sells only lab grade, full spectrum CBD oil that comes in various strengths, such as a maximum potency oil containing 2,400 mg CBD and a moderate strength tincture that is 750 mg CBD.
If you're wondering why Spruce doesn't sell lower potency CBD oils, it says that this is because, oftentimes, taking just 200 or 500 mg doesn't offer a lot of relief. Therefore, this company doesn't want consumers to waste their hard-earned money on CBD oils that won't provide the desired effects.
Some of the reasons that Spruce ranks number one are that it is 100 percent natural, contains no pesticides, and is made in the U.S.A. In fact, Spruce only sources its CBD from two family-owned American farms—one that is located in North Carolina and the other in Kentucky—both of which are sustainably focused.
As far as extraction methods are concerned, Spruce uses a moonshine extraction for its CBD. This gives the most effective results by providing the best combination of CBD, low level THC (tetrahydrocannabinol), and terpenes in the CBD oils. And it leaves no moonshine taste because this ingredient is totally filtered out before bottling.
Additionally, Spruce's CBD oils are third party tested by independent U.S. labs. That said, they've never failed for pesticides, bacteria, or other harmful substances and these tests have also confirmed that Spruce CBD oils contain the amount of CBD stated on the labels, if not a bit more.
Finally, Spruce CBD oils don't produce a high because they contain less than 0.3 percent THC and many users experience positive effects within one to three days when taking two dropper fulls, or a total of 50 mg, per day. How do consumers feel about Spruce?
Spruce has a 5-star rating on its product website, and that's after approximately 100 consumer reviews. A few of the comments shared by Spruce CBD oil users include:
"I work night shifts 10 days at a time, and for 6 months I hadn't been able to sleep more than 4-5 hours at a time – and the sleep was only light sleep…Since I've started taking the Spruce CBD before bed, I'm sleeping 6-7 hours easy. It's like someone flipped a switch. Now I'm actually thriving on night shift and no longer concerned for my sanity." ~ Nicholas
"I started taking 25 mg 2xdaily, looking for possible arthritis relief. After two days, I was astonished to find that my more serious problem – tremor of the right hand – was all but eliminated. This is a life-changing discovery for me." ~ Jay
"I have been suffering from plantar fasciitis and the Spruce CBD oil has helped tremendously with the pain in the foot. In fact it has receded almost completely." ~ Elaine
"I've tried a whole range of CBD products from different brands…and different forms…and the problem with other CBD brands that I've tried so far is that I often times don't feel the effects. I'm happy to report that Spruce CBD is on a whole new level. Spruce's lab grade oil is quite strong and helps relieve a lot of stress & anxiety that I get during my workdays." ~ Bernard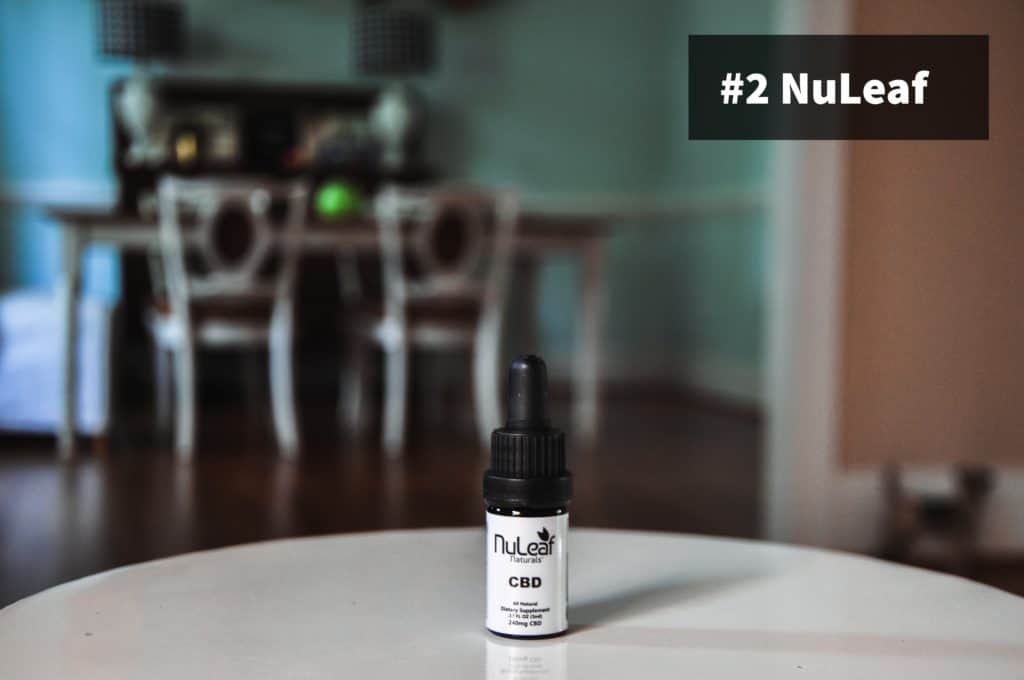 Full spectrum CBD oil
100% organic
Made in the U.S.A. (grown in Colorado)
CO2 extraction
Third party tested
4.5-star rating
The second product that has earned a spot among the top three best CBD oils is NuLeaf Naturals. With NuLeaf, you can choose from full spectrum CBD oils in a wide variety of potencies ranging from 240 mg to 4,850 mg. It even makes a CBD oil for pets.
NuLeaf's CBD oils are 100 percent organic cold pressed hemp oil that utilize whole plant extracts, which means that they also contain health-promoting cannabinoids such as CBC, CBG, CBDA, and CBDV. Additionally, these plants are grown on select farms in Colorado, so they are sourced in the U.S.
NuLeaf's CBD oils been lab tested, both by in-house and multiple third party labs. These labs confirm that the oils contain no pesticides, herbicides, mold, fungi, heavy metals, or mycotoxins. They also validate that NuLeaf's CBD oils contain cannabinoids and terpenes in optimal amounts, while double-checking them for safety and consistency.
As far as CBD extraction is concerned, NuLeaf uses a combination of green methods utilizing CO2: Subcritical extraction and Supercritical extraction. Together, these keep impurities such as toxins, heavy metals, and chemicals from being left behind and potentially degrading the products.
These methods work by removing lighter oils first, then increasing pressure to remove the oils that are left. This results in the creation of a CBD oil that contains a wide variety of health-improving cannabis extracts such as cannabinoids, terpenes, essential oils, and phytochemicals.
After approximately 12,000 customer reviews, NuLeaf has earned a 4.5-star rating, with consumer's submitting many positive comments including:
"I was able to cut way back on my anti-anxiety meds almost immediately after I started taking this and no longer have to take a sleeping pill every single night!" ~ Vanessa
"Both the service and the product are 10 out of 10, this is my second purchase and the results are fantastic." ~ Robert
"Honestly, this is one of the best products I've ever tried. Thank you Nuleaf Naturals for giving me back my ability to move and the ability to enjoy making family dinners again!!" ~ Mary
"Excellent. Helps reduce anxiety, inflammation and blood pressure almost immediately. Great for back and muscle pain." ~ Ruth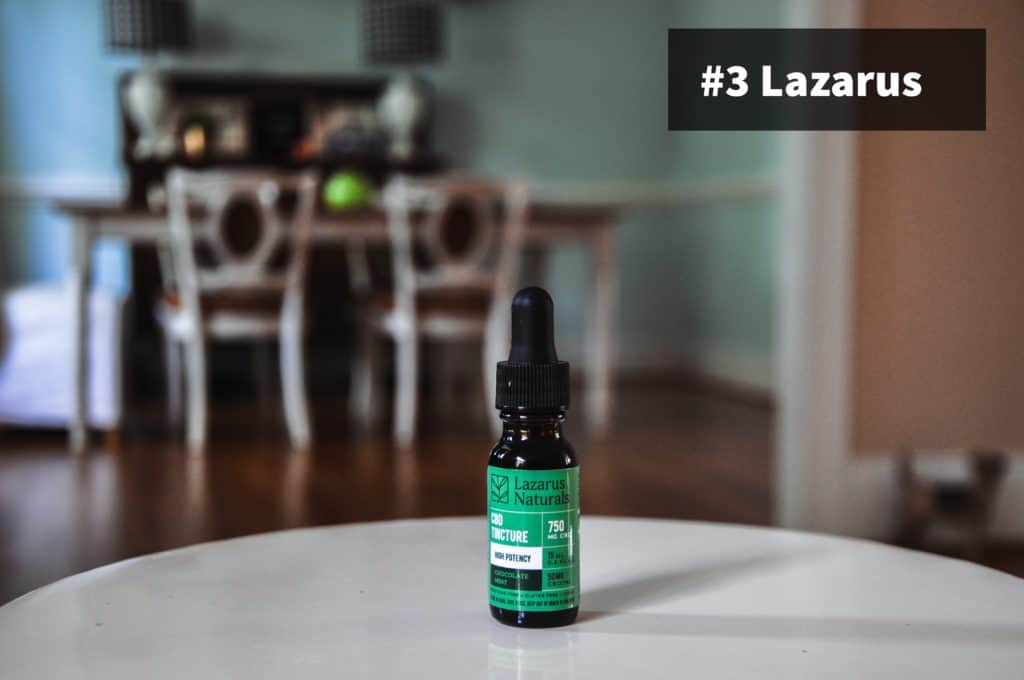 Full spectrum CBD oil and CBD isolates
100% natural and vegan
Made in the U.S.A. (grown in Oregon)
Ethanol extraction
Third party tested
5-star rating
The final product to make the list of the top three best CBD oils is Lazarus Naturals. Offering both full spectrum CBD oils and CBD isolates, you can purchase a variety of CBD oil products ranging from tinctures to massage oils to capsules.
Like Spruce and NuLeaf, Lazarus's CBD oil products are 100 percent natural. They're also vegan, gluten-free, and contain no artificial preservatives.
Lazarus sources their CBD extracts from hemp grown on farms located in Oregon. In fact, their own farm sources about 70 percent of their industrial hemp, outsourcing the remaining 30 percent to other local, trusted growers that adhere to the Oregon Department of Agriculture's Hemp Research Pilot Program's certification process.
Regarding extraction, Lazarus uses ethanol extraction methods for its CBD. This process helps purify and distill the final CBD products.
The CBD oils offered by Lazarus have also passed numerous lab test rounds to verify that no heavy metals, pesticides, or residual solvents are present. Third party lab testing is used to ensure that potency and quality standards are met.
Consumer ratings for Lazarus CBD oils are almost all 5-star and include comments such as:
"I've taken 25 mg of the chocolate mint high potency tincture every day for a month, and it's had a significant positive impact on my mood by reducing my anxiety and improving my sleep. My coworker ordered some gummies from a competing website that she let me try, but that product doesn't compare to Lazarus." ~ Elizabeth
"I am so gratified to Lazarus Naturals for making a quality CBD product that provides relief to me. I'm also gratified for the generous veterans price discount. I highly recommend their tinctures." ~ ewkeim
"This is clearly a company that puts its customer's CBD needs and order questions or concerns first. Just awesome awesome awesome!" ~ gcregojr
"I recently switched to Lazarus Naturals from another company and I couldn't be happier…This product helps take the edge off throughout the day and helps me relax and fall asleep." ~ Kushtaka
Whether you buy your CBD oil from Spruce, NuLeaf, or Lazarus, consumer reviews suggest that you simply cannot lose!